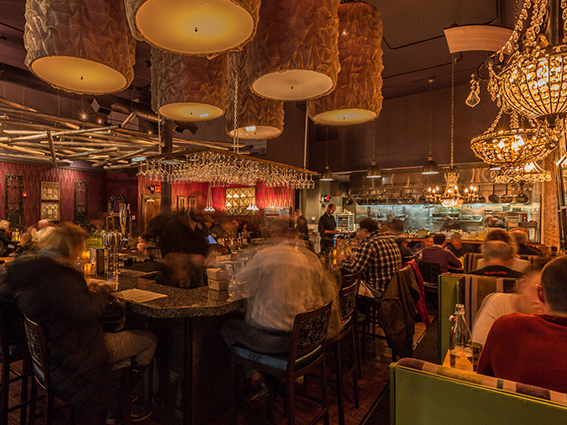 CLASSIC COCKTAILS

ÀLAVITA
Crater Lake gin, St. Germain, Cinzano sweet vermouth, house-made orange bitters. Coupe or Rock. Salute To Life! 

NEGRONI
Crater Lake gin, Campari, sweet vermouth. Coupe or Rock.

WHITE NEGRONI
Crater Lake gin, Suze, Lillet Blanc. Coupe or Rock.

ROCKEFELLER
Bulleit bourbon, house-spiced cinnamon-vanilla syrup, Punt e Mes sweet vermouth, Licor 43, aromatic bitters & The Original Luxardo maraschino cherry. Coupe. 

BOULEVARDIER
Bulleit bourbon, Gran Classico amaro, sweet vermouth. Coupe or Rock.

SMOKE INFUSION
Pierre Ferrand cognac, Laird's Applejack, Bonal, Amaro Nonino, Lorenzo Inga My amaro & bitters. Oak smoked old fashion glass.

  BASIL FOAM
Boise's Revolution vodka, St. Germain 'foam,' white peach purée, basil essence & Prosecco splash. Coupe.

BEE'S KNEES
Ransom Old Tom gin, local Ahaus honey, lemon juice & lavender bitters. Rocks.

IDAHO BLACKBERRY
Montana's Trailhead Spirits Great North vodka, St. Germain, blackberry purée, lemon juice & mint. Coupe.

ZENZERO MARGARITA
El Jimador tequila, Vida mezcal, fresh ginger juice, lime, agave. Rocks.

ROCK & RYE
Bulleit Rye whiskey, lemon, orange, rock sugar, spiced horehound tea. Coupe or Rock.

'ROUND MIDNIGHT
Carpano Antica Vermouth, Makers Mark, Rothman and Winter Orchard apricot liqueur, Angostura bitters, orange peel. Nick & Nora.

SEASONAL COCKTAILS

STRAWBERRY SPRITZ
Lillet Blanc, strawberry, lemon juice, fresh Idaho mint, Prosecco.
Wine Glass.

THE COOLER
Tito's vodka, Ancho Reyes verde chili liqueur, pressed cucumber, fresh lime.
Rocks.

THE HUGO
Prosecco, St. Germain elderflower liqueur, mint, soda splash.
Flute.

MONTE MANHATTAN
Bulleit rye whiskey, Amaro Montenegro, bitters, Luxardo cherry syrup.
Coupe.

ITALIAN MARGARITA
El Jimador Reposado tequila, Amaretto, fresh orange juice, lime and soda splash.
Rocks.

BLOOD ORANGE BELLINI 
Prosecco, blood orange purée. Flute.
The Gift of Local
Purchase an ALAVITÁ Gift Card. Give the gift of local with a gift card to your favorite restaurant. Click here to purchase a gift card now.